Flex & Balance: The Fitness Components You Need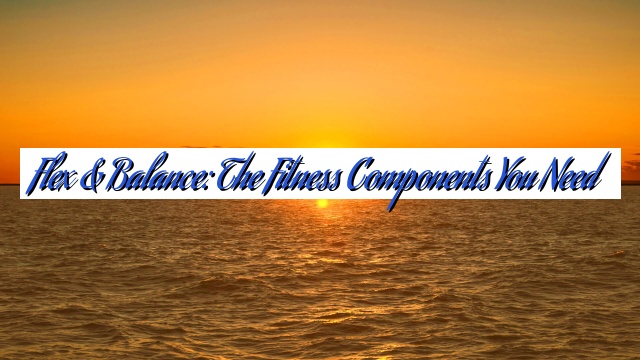 Maintaining a healthy and balanced lifestyle is essential for overall well-being. Regular exercise is a crucial aspect of this, and it can be further enhanced by focusing on specific fitness components. In this article, we will explore two important components of fitness: flexibility and balance. By understanding their significance and incorporating exercises that target these areas, you can improve your overall fitness level and lead a more fulfilling life.
The Importance of Flexibility
Flexibility refers to the range of motion in your joints and muscles. It plays a vital role in your daily activities and physical performance. Here are some key reasons why flexibility should be an essential part of your fitness routine:
1. Injury Prevention
Having good flexibility can significantly reduce the risk of injuries. When your muscles and joints are flexible, they can move through their full range of motion without strain or tension. This not only prevents muscle strains but also minimizes the chance of joint sprains or tears. By engaging in flexibility exercises, you can enhance the elasticity of your muscles and improve joint mobility, reducing the likelihood of injury during physical activities.
2. Improved Posture
Poor flexibility can affect your posture, leading to musculoskeletal imbalances and postural abnormalities. Stretching exercises that enhance flexibility can help correct these imbalances, resulting in improved posture and reduced discomfort. When your muscles are flexible, they can support your spine and body alignment properly, promoting an upright posture and reducing the risk of chronic back pain or other postural issues.
3. Enhanced Physical Performance
Flexibility is crucial for optimal physical performance, regardless of the activity or sport you engage in. It allows your muscles to work efficiently, leading to better coordination, balance, and overall performance. Whether you're an athlete or simply enjoy recreational activities, maintaining good flexibility can significantly enhance your abilities. With increased flexibility, your body can move more freely and efficiently, improving your athletic performance and reducing the risk of muscle imbalances or compensatory movements that can hinder your progress.
4. Alleviation of Muscle Tension
Tight muscles can cause discomfort and restrict movement. Incorporating flexibility exercises into your routine can help alleviate muscle tension, promote relaxation, and improve blood circulation. Stretching can be particularly beneficial after intense workouts or long periods of sitting. By stretching regularly, you can release built-up tension in your muscles, increase blood flow to the tissues, and promote muscle recovery. This can help prevent muscle soreness, stiffness, and tightness, allowing you to move more comfortably and freely.
Exercises to Improve Flexibility
To enhance your flexibility, consider incorporating the following exercises into your fitness routine:
1. Static Stretches
Static stretches involve holding a stretch position for a certain period, typically around 30 seconds. These stretches target specific muscles or muscle groups and are beneficial for increasing flexibility. Examples include hamstring stretches, calf stretches, and shoulder stretches. During static stretches, focus on deep breathing and relaxing into the stretch to allow your muscles to lengthen and increase their range of motion gradually.
2. Dynamic Stretches
Dynamic stretches involve continuous movement through a full range of motion. They are typically performed as part of a warm-up routine before engaging in any physical activity or workout. Dynamic stretches help improve flexibility, increase blood flow, and prepare the body for more intense movements. Examples include arm circles, leg swings, and torso twists. Dynamic stretches not only enhance flexibility but also activate the muscles and joints, improving their readiness for physical exertion.
3. Yoga and Pilates
Yoga and Pilates are both excellent ways to improve flexibility. These practices incorporate a combination of stretching, strengthening, and breathing exercises, which not only enhance flexibility but also promote mental well-being. Joining a yoga or Pilates class or following online tutorials can be a great way to reap the benefits of these disciplines. Yoga poses such as downward dog, pigeon pose, and seated forward fold can target multiple muscle groups, promoting flexibility and relaxation. Pilates exercises, such as the hundred, roll-up, and spine stretch, focus on core strength and flexibility, enhancing overall body control and mobility.
The Significance of Balance
Balance is the ability to maintain control of your body's position, either while stationary or in motion. It is a fundamental fitness component that is often overlooked but is crucial for various reasons:
1. Injury Prevention
Good balance helps prevent falls and related injuries, particularly in older adults. It enhances stability and coordination, reducing the risk of trips, slips, or other accidents. By improving your balance, you can maintain an active lifestyle and reduce the likelihood of fractures or other fall-related injuries. Balance exercises challenge your proprioception, which is your body's awareness of its position in space, improving your ability to react and adjust to external factors that may lead to falls.
2. Core Strength
Balance exercises often target the core muscles, which include the muscles in your abdomen, back, and pelvis. These exercises help strengthen those muscles, leading to improved posture, stability, and overall core strength. A strong core is essential for maintaining balance and stability during everyday activities and physical exertion. By engaging in balance exercises, such as planks, side planks, and bird dogs, you can develop a strong and stable core, which can enhance your overall body control and reduce the risk of injuries.
3. Improved Stability and Coordination
By training your balance, you enhance your body's stability and coordination. This can have a positive impact on everyday activities, sports performance, and even simple tasks like walking on uneven surfaces or climbing stairs. Balance exercises challenge your neuromuscular system, improving the communication between your muscles and brain. This, in turn, enhances your body's ability to maintain stability and coordinate movements, leading to better overall motor control and reduced risk of falls or accidents.
4. Functional Fitness
Balance is essential for functional fitness, which refers to the ability to perform daily activities with ease. Whether you're bending down to tie your shoes, reaching for something on a high shelf, or getting in and out of a car, good balance enables you to navigate through these movements confidently and safely. By incorporating balance exercises into your fitness routine, such as single-leg stands, heel-to-toe walks, and lateral lunges, you can improve your body's ability to maintain stability during functional movements, enhancing your overall quality of life.
Exercises to Enhance Balance
Incorporate the following exercises into your fitness routine to improve your balance:
1. Single-Leg Stands
Stand on one leg and try to maintain your balance for a set duration, gradually increasing the time as you progress. You can perform this exercise while brushing your teeth or cooking to make it a part of your daily routine. Single-leg stands challenge your balance and proprioception, strengthening the muscles responsible for maintaining stability in the lower body.
2. Yoga Poses
Yoga poses such as tree pose, warrior III, and eagle pose can help improve balance. These poses challenge your stability and strengthen the muscles necessary for maintaining balance. By practicing yoga regularly, you can enhance your body's awareness of its position in space and improve your balance and stability.
3. Tai Chi
Tai Chi is a Chinese martial art that focuses on slow, controlled movements and deep breathing. Regular practice of Tai Chi improves balance, coordination, and overall body awareness. The slow and deliberate movements of Tai Chi require constant adjustments in body position, enhancing your balance and stability. Practicing Tai Chi can also promote relaxation and mental clarity.
4. Stability Ball Exercises
Using a stability ball can enhance your balance and core strength. Exercises such as stability ball squats, bridges, and planks challenge your stability and engage multiple muscle groups. By performing these exercises on an unstable surface, such as a stability ball, you force your body to recruit additional muscles to maintain balance, leading to improved stability and core strength.
In conclusion, flexibility and balance are essential components of fitness that should not be overlooked in your exercise routine. By incorporating targeted exercises to improve flexibility and balance, you can reduce the risk of injuries, enhance physical performance, and lead a healthier, more active lifestyle. Remember to consult with a fitness professional or healthcare provider before starting any new exercise program to ensure it aligns with your individual needs and abilities.
FAQ
1. Why is flexibility important for fitness?
Having good flexibility can significantly reduce the risk of injuries, improve posture, enhance physical performance, and alleviate muscle tension.
2. What are some exercises to improve flexibility?
Some exercises to improve flexibility include static stretches, dynamic stretches, and practicing yoga or Pilates.
3. Why is balance significant for fitness?
Balance is important for injury prevention, core strength, improved stability and coordination, and functional fitness.
4. What are some exercises to enhance balance?
Some exercises to enhance balance include single-leg stands, yoga poses, Tai Chi, and stability ball exercises.