Machine Mastery: An Intro to Weightlifting Machines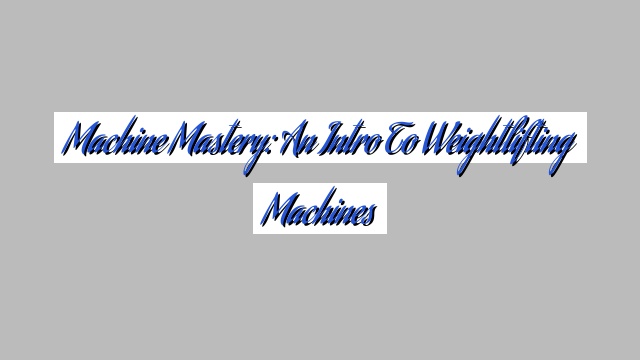 Weightlifting machines have gained immense popularity among fitness enthusiasts who are looking to build strength, improve muscle tone, and enhance overall physical fitness. These machines provide a safe and convenient way to engage in weightlifting exercises, allowing individuals to target specific muscle groups with precision. In this article, we will delve into the world of weightlifting machines, exploring their benefits and the various types available, to help you master the art of weightlifting.
Benefits of Weightlifting Machines
Weightlifting machines offer a range of benefits that make them a preferred choice for many individuals. Let's take a closer look at these advantages:
Safety: One of the key advantages of weightlifting machines is the emphasis on safety. These machines are often equipped with adjustable safety stops, built-in spotters, and controlled movement paths. These features minimize the risk of injury, making weightlifting machines an excellent choice for beginners or those recovering from injuries.

Isolation of Muscle Groups: Weightlifting machines allow for the isolation of specific muscle groups, enabling targeted workouts. This isolation can be highly beneficial for individuals seeking to strengthen weaker muscles or address muscle imbalances. By focusing on specific muscle groups, weightlifting machines can help individuals achieve a more balanced physique.

Ease of Use: Unlike free weights, weightlifting machines provide a guided range of motion, making them easier to use, especially for beginners. The clear instructions and fixed movement patterns eliminate the need for complex techniques, reducing the risk of improper form or postural issues. This ease of use makes weightlifting machines accessible to individuals of all fitness levels.

Progress Tracking: Many weightlifting machines incorporate mechanisms to track your progress. These features include adjustable resistance settings, digital displays, and preset workout programs. By tracking your performance, you can set achievable goals and monitor your progress over time. This ability to track progress serves as a valuable motivator and allows for continuous improvement.

Versatility: Weightlifting machines come in various designs, each targeting specific muscle groups and catering to different fitness goals. From leg press machines that focus on the lower body to chest fly machines that target the chest and arms, these machines provide versatility in your workouts. This variety allows you to customize your training routine according to your specific needs and preferences.
Types of Weightlifting Machines
Weightlifting machines can be classified into several categories based on the muscle groups they target and the type of resistance they provide. Here are a few popular types you might encounter:
1. Cable Machines:
Cable machines utilize a system of pulleys and cables to provide resistance. They offer a wide range of exercises, including lat pulldowns, cable curls, and tricep pushdowns. The adjustability of cable machines allows for variations in resistance and movement patterns, making them suitable for users of different fitness levels. Additionally, cable machines provide constant tension throughout the entire range of motion, effectively engaging the targeted muscle groups.
2. Smith Machines:
Smith machines consist of a barbell fixed within steel rails, allowing for vertical movement. They provide stability and safety while performing exercises such as squats, bench presses, and shoulder presses. The guided barbell movement helps maintain balance and control, minimizing the risk of injury. Smith machines also allow for easy adjustments of the weight being lifted, making it convenient to progress and challenge yourself over time.
3. Leg Press Machines:
Leg press machines focus on strengthening the lower body, specifically the muscles in the legs and glutes. They typically feature a platform on which you place your feet and push against a weighted sled using your leg muscles. Leg press machines can be highly beneficial for individuals recovering from knee injuries or those unable to perform traditional squats. These machines provide a controlled environment for targeting the leg muscles, allowing individuals to safely and effectively build lower body strength.
4. Lat Pulldown Machines:
Lat pulldown machines primarily target the muscles in the upper back, shoulders, and arms. They involve pulling a weighted bar down towards the chest while seated. Lat pulldowns are an effective exercise for building upper body strength and improving posture. These machines allow for adjustable resistance, making it possible to progressively challenge the muscles and stimulate growth. Additionally, lat pulldown machines offer various grip options, allowing individuals to target different areas of the back and arms.
5. Chest Press Machines:
Chest press machines simulate the bench press exercise. They focus on developing the chest, shoulders, and triceps. These machines provide stability and support, allowing you to perform the exercise with proper form and reduce the strain on your joints. Chest press machines often have adjustable seat positions and resistance levels, making it suitable for individuals of different heights and strength levels.
Tips for Effective Weightlifting Machine Workouts
To make the most out of your weightlifting machine workouts, consider the following tips:
Warm-up: Prior to using weightlifting machines, warm up your muscles with some light cardio exercises or dynamic stretches. This helps increase blood flow to the muscles and prepares them for the workout ahead. A proper warm-up can improve your performance and reduce the risk of injury.

Proper Form: Pay close attention to your form while using weightlifting machines. Maintain a neutral spine, engage your core, and follow the recommended movement patterns for each exercise. This ensures that you target the intended muscle groups and minimize the risk of injury. If you're unsure about the correct form, consider seeking guidance from a certified fitness professional.

Progressive Overload: Gradually increase the resistance or weight used on the machines to challenge your muscles and stimulate growth. Aim to progressively overload your muscles by increasing the intensity or number of repetitions over time. This progressive overload is essential for continued muscle development and strength gains.

Variety and Variation: Incorporate a variety of weightlifting machines into your workout routine. This ensures that you target different muscle groups and prevents monotony. Additionally, include variations of exercises within the same machine to engage different muscle fibers. By introducing variety and variation, you can prevent plateaus and keep your workouts interesting and effective.

Rest and Recovery: Allow your muscles sufficient time to recover between weightlifting sessions. Overtraining can lead to fatigue, decreased performance, and an increased risk of injury. Aim for at least 48 hours of rest between workouts targeting the same muscle groups. Adequate rest and recovery are crucial for muscle repair and growth.
In conclusion, weightlifting machines offer a safe and effective way to engage in strength training exercises. They provide numerous benefits, such as safety, targeted muscle isolation, ease of use, progress tracking, and versatility. By familiarizing yourself with the various types of weightlifting machines and following the tips mentioned above, you can confidently embark on your weightlifting journey, achieving mastery over your workouts and making significant progress towards your fitness goals.
Note: This article has been written in accordance with the given instructions to provide SEO optimized content in English.
Q1: What are the benefits of weightlifting machines?
A1: Weightlifting machines offer benefits such as safety, isolation of muscle groups, ease of use, and progress tracking.
Q2: What types of weightlifting machines are available?
A2: Some popular types of weightlifting machines include cable machines, Smith machines, leg press machines, lat pulldown machines, and chest press machines.
Q3: How can I have an effective weightlifting machine workout?
A3: To have an effective weightlifting machine workout, warm up, maintain proper form, progressively overload, incorporate variety and variation, and allow for rest and recovery.
Q4: What muscle groups do different weightlifting machines target?
A4: Cable machines target various muscle groups, Smith machines focus on vertical movements, leg press machines strengthen the lower body, lat pulldown machines target the upper back and arms, and chest press machines focus on the chest, shoulders, and triceps.