Move, Lose, Repeat: Customizing Your Exercise Plan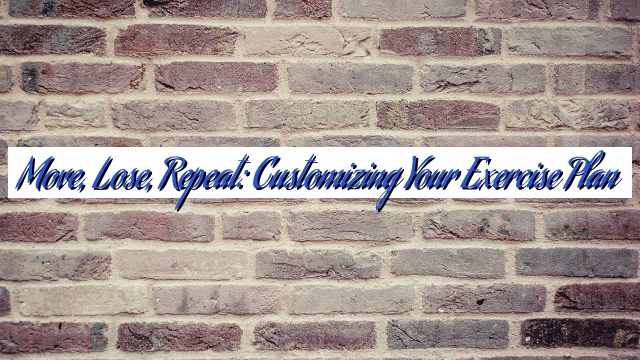 Physical exercise is an essential component of a healthy lifestyle. It not only helps in maintaining a healthy weight but also improves cardiovascular health, boosts mood, and reduces the risk of various chronic diseases. However, finding the right exercise plan that works for you can be a daunting task. This article will guide you through the process of customizing your exercise plan, taking into consideration your individual needs, preferences, and goals.
Understanding Your Fitness Goals
Before delving into creating a personalized exercise plan, it is crucial to have a clear understanding of your fitness goals. Defining your goals will help you tailor your exercise routine accordingly, ensuring that you stay motivated and focused. Whether you aim to lose weight, improve strength, enhance endurance, or simply maintain overall fitness, each goal requires a different approach and set of exercises.
To lose weight, you may want to focus on cardiovascular exercises that burn calories and increase your heart rate. This can include activities such as running, swimming, cycling, or brisk walking. Incorporating strength training exercises alongside cardio can help build lean muscle mass, which in turn can boost your metabolism and aid in weight loss.
If your goal is to improve strength, you should prioritize strength training exercises. These can include weightlifting or bodyweight exercises like push-ups, squats, and lunges. By progressively increasing the weight or intensity of these exercises, you can challenge your muscles and promote strength gains.
For those looking to enhance endurance, cardiovascular exercises are key. These exercises, such as running or cycling, help improve your body's ability to sustain physical activity for extended periods. Gradually increasing the duration and intensity of your cardio workouts can help boost your endurance levels over time.
If your primary focus is maintaining overall fitness, a well-rounded exercise routine that includes a mix of cardiovascular exercises, strength training, flexibility exercises, and balance exercises is ideal. This combination helps improve cardiovascular health, build strength, enhance flexibility, and reduce the risk of injuries.
Assessing Your Current Fitness Level
To design an exercise plan that suits your needs, it is essential to assess your current fitness level accurately. This evaluation will enable you to set realistic and achievable goals. Consider factors such as your aerobic capacity, muscular strength, and flexibility.
One way to assess your fitness level is by consulting with a fitness professional. They can conduct various tests, such as a treadmill stress test or strength assessment, to determine your current fitness level accurately. Another option is to use online fitness assessment tools that provide insights into your aerobic fitness, muscular strength, and flexibility. These tools often involve simple exercises or questionnaires to evaluate your fitness level.
By knowing your starting point, you can set appropriate goals and track your progress effectively. It's important to remember that everyone's fitness level is different, and comparing yourself to others may not be helpful. Focus on improving your own performance and celebrate your personal achievements.
Choosing the Right Types of Exercise
There are several types of exercises you can incorporate into your routine, each offering unique benefits. It is crucial to select exercises that align with your goals and preferences. Here are some options to consider:
Cardiovascular Exercises: Cardio exercises, such as running, swimming, cycling, or brisk walking, are excellent for improving cardiovascular health, burning calories, and increasing endurance. These exercises elevate your heart rate and help strengthen your heart and lungs.

Strength Training: Incorporating strength training exercises, such as weightlifting or bodyweight exercises like push-ups and squats, helps build muscle, increase metabolism, and improve overall strength. Strength training exercises can be done with free weights, weight machines, or your body weight.

Flexibility and Stretching: Flexibility exercises, like yoga or Pilates, enhance joint mobility, improve posture, and prevent injuries. These exercises can be particularly beneficial for individuals seeking to improve flexibility or manage chronic pain. Stretching exercises should be performed after a warm-up or at the end of a workout when your muscles are warm.

Balance and Stability: Exercises that focus on balance and stability, such as tai chi or specific yoga poses, help improve body control and reduce the risk of falls, especially for older adults. These exercises often involve slow and controlled movements that challenge your balance and coordination.
By incorporating a combination of these exercises into your routine, you can target different aspects of fitness and achieve a well-rounded workout program.
Tailoring Your Exercise Plan
Once you have selected the types of exercises you wish to include in your routine, it is time to customize your plan to suit your specific needs. Consider the following factors:
Frequency
Decide how often you will engage in exercise sessions. The American Heart Association recommends at least 150 minutes of moderate-intensity aerobic activity or 75 minutes of vigorous-intensity aerobic activity per week. Additionally, aim for strength training exercises at least twice a week, targeting major muscle groups.
To achieve these recommendations, you can divide your exercise sessions throughout the week. For example, you could aim for 30 minutes of moderate-intensity cardio exercise, such as brisk walking or cycling, five days a week. On two of those days, you can incorporate strength training exercises that focus on different muscle groups.
Duration
Determine the duration of each exercise session. If you are a beginner, start with shorter sessions and gradually increase the duration as your fitness level improves. Aim for a minimum of 30 minutes of moderate-intensity aerobic activity per session, but feel free to divide it into smaller time blocks if needed.
For strength training, focus on performing exercises for each major muscle group. Aim for 1-3 sets of 8-12 repetitions for each exercise. The total duration of your strength training session will depend on the number of exercises and sets you perform.
Intensity
Adjust the intensity of your workouts based on your fitness level and goals. If weight loss is your priority, you may want to incorporate higher-intensity workouts. High-intensity interval training (HIIT), for example, involves alternating between short bursts of intense exercise and periods of rest or lower-intensity exercise. This type of workout can help burn more calories in a shorter amount of time.
On the other hand, if you are a beginner or have certain health conditions, starting with low to moderate-intensity exercises may be more suitable. It's important to listen to your body and gradually increase the intensity as you become more comfortable and fit.
Progression
Regularly reassess and adjust your exercise plan to avoid stagnation and maximize results. Gradually increase the intensity, duration, or frequency of your workouts to challenge your body and prevent plateaus. For example, if you have been walking for 30 minutes three times a week, you can increase it to four times a week or add an extra 5 minutes to each session.
Additionally, consider incorporating new exercises or variations to keep your routine fresh and prevent boredom. This can help stimulate different muscle groups and prevent overuse injuries.
Variety
To keep your exercise routine enjoyable and prevent boredom, incorporate a variety of exercises. This not only helps engage different muscle groups but also ensures a well-rounded fitness program. Consider trying new activities or classes to keep things interesting and exciting.
For cardiovascular exercises, you can alternate between running, swimming, cycling, or using cardio machines at the gym. This variety helps prevent overuse injuries and allows you to challenge different muscle groups.
Similarly, for strength training, you can vary your exercises by targeting different muscle groups or using different equipment. For example, you can alternate between dumbbell exercises, resistance band exercises, and bodyweight exercises to keep your workouts diverse.
By incorporating variety into your exercise routine, you can stay motivated, prevent boredom, and continuously challenge your body to achieve better results.
Safeguarding Your Health
Safety should always be a top priority when engaging in physical exercise. Here are some tips to ensure a safe workout experience:
Consult Your Healthcare Provider: If you have any underlying health conditions or concerns, consult with your healthcare provider before starting a new exercise plan. They can provide valuable guidance and ensure you choose activities that are safe and suitable for your condition.

Warm-up and Cool Down: Always begin your exercise sessions with a proper warm-up to prepare your muscles and joints for activity. This can include dynamic stretches or light aerobic exercises to gradually increase your heart rate and warm up your muscles. Similarly, conclude your workouts with a cool-down to gradually lower your heart rate and prevent muscle soreness. Static stretches, such as stretching the major muscle groups, can be performed during the cool-down phase.

Listen to Your Body: Pay attention to any discomfort, pain, or unusual symptoms during exercise. If something doesn't feel right, it's essential to take a break, modify the exercise, or seek professional advice. Pushing through pain can lead to injuries and setbacks.

Stay Hydrated: Proper hydration is crucial for overall health and exercise performance. Drink water before, during, and after your workouts to stay adequately hydrated. The exact amount of water you need will depend on factors such as your body size, activity level, and climate.

Use Proper Form: Whether you are lifting weights or performing specific exercises, using correct form is vital to prevent injuries and maximize the effectiveness of your workouts. If you're unsure about proper technique, consider working with a qualified fitness professional who can guide you.
Tracking Progress and Staying Motivated
To stay motivated and track your progress, consider the following strategies:
Journaling: Keep a fitness journal to record your workouts, track improvements, and set new goals. This can provide a sense of accomplishment and keep you motivated. Include details such as the exercises performed, sets and repetitions, weights used, and any notes on how you felt during the workout.

Setting Milestones: Break down your long-term goals into smaller milestones. Celebrate each milestone achieved, as this can help maintain motivation and make your fitness journey more enjoyable. For example, if your goal is to run a marathon, set milestones for completing a 5K, 10K, half marathon, and so on.

Buddy System: Exercise with a friend or join a fitness class to increase accountability and make workouts more enjoyable. Having a workout buddy can provide support, motivation, and a friendly competition to push yourself further.

Reward Yourself: Treat yourself to non-food rewards for accomplishing your fitness goals. This could be purchasing new workout gear, booking a massage, or taking a day off to relax. Rewards can help reinforce positive behavior and make your fitness journey more rewarding.
Conclusion
Customizing your exercise plan is key to achieving your fitness goals and maintaining a healthy lifestyle. By understanding your goals, assessing your fitness level, choosing the right types of exercises, and tailoring your plan accordingly, you can create a routine that works for you. Remember to prioritize safety, track your progress, and stay motivated along the way. With dedication and consistency, you can embark on a rewarding fitness journey that will improve your overall well-being.
Q: Why is physical exercise important?
A: Physical exercise is important because it helps in maintaining a healthy weight, improves cardiovascular health, boosts mood, and reduces the risk of various chronic diseases.
Q: How do I define my fitness goals?
A: To define your fitness goals, you should have a clear understanding of what you want to achieve. Whether it's losing weight, improving strength, enhancing endurance, or maintaining overall fitness, each goal requires a different approach and set of exercises.
Q: How do I assess my current fitness level?
A: You can assess your current fitness level by consulting with a fitness professional who can conduct tests, such as a treadmill stress test or strength assessment. Alternatively, you can use online fitness assessment tools that provide insights into your aerobic fitness, muscular strength, and flexibility.
Q: What should I consider when tailoring my exercise plan?
A: When tailoring your exercise plan, you should consider factors such as frequency, duration, intensity, progression, and variety. These factors help determine how often you exercise, how long each session is, how hard you work, how you can challenge yourself, and how you can keep your routine interesting and enjoyable.