Powerful Lifting: Enhancing Strength through Weights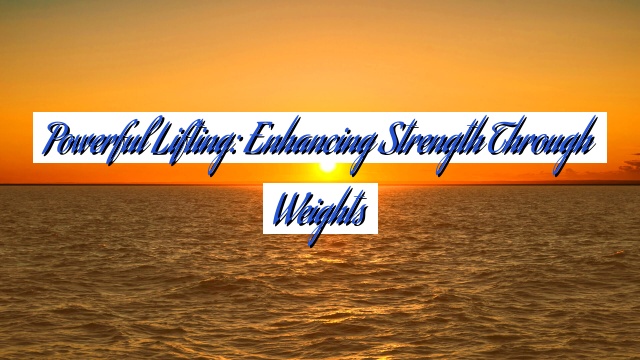 Strength training has gained immense popularity in recent years due to its numerous benefits for both physical and mental well-being. One of the most effective ways to enhance strength is through lifting weights. Whether you are a seasoned athlete or just beginning your fitness journey, incorporating weightlifting into your routine can yield impressive results. In this article, we will explore the various aspects of powerful lifting and how it can amplify your strength gains.
The Importance of Strength Training
Strength training is crucial for overall fitness due to its wide range of benefits. Regular strength training not only increases muscle strength but also improves bone density, joint health, and overall body composition. By engaging in strength training, you are able to enhance your metabolism, promoting fat loss and increasing lean muscle mass, which leads to a toned and sculpted physique.
Moreover, strength training contributes significantly to functional movements and daily activities. It improves posture, balance, and stability, reducing the risk of injuries and enhancing athletic performance. Additionally, strength training positively impacts mental health by boosting self-confidence, reducing anxiety, and combating stress.
The Fundamentals of Powerful Lifting
To maximize the effectiveness of your weightlifting routine, it is essential to understand the fundamentals of powerful lifting. Here are some key aspects to consider:
1. Proper Technique:
Mastering proper lifting technique is crucial to avoid injuries and ensure efficient muscle engagement. By maintaining proper form and posture, you can target the intended muscle groups while minimizing strain on joints and connective tissues. Whether you are performing basic compound exercises like squats and deadlifts or isolation exercises like bicep curls, focusing on correct technique is paramount.
Some key points to keep in mind for proper lifting technique include:
Engage your core muscles to stabilize your spine and maintain good posture.
Control the movement throughout the exercise, avoiding any jerking or swinging motions.
Breathe properly, exhaling during the exertion phase and inhaling during the relaxation phase.
Use a weight that challenges you without compromising your form.
2. Progressive Overload:
Progressive overload is the cornerstone of powerful lifting. It involves gradually increasing the demands placed on your muscles to continually challenge and stimulate growth. This can be achieved by increasing the weight lifted, the number of repetitions, or the intensity of the exercise. Progressive overload ensures that your muscles adapt, grow stronger, and continually progress.
To effectively apply progressive overload, consider the following strategies:
Increase the weight lifted: As your muscles adapt to a certain weight, progressively increase the load to continue challenging them.
Increase the number of repetitions: Gradually add more repetitions to your sets to further fatigue the muscles.
Increase the intensity: Modify the exercise by incorporating advanced variations or using equipment that adds resistance.
3. Varied Training Program:
To prevent plateaus and maintain motivation, it is essential to introduce variety into your training program. Incorporate different exercises, training methods, and equipment to continually challenge your muscles in new ways. This diversity not only keeps your workouts interesting but also targets different muscle fibers, leading to comprehensive strength development.
Here are some ideas to introduce variety into your training program:
Incorporate different types of resistance training equipment, such as free weights, resistance bands, or weight machines.
Try different exercise variations targeting the same muscle group, such as different grip positions or angles.
Experiment with different training methods, such as supersets, drop sets, or circuit training.
4. Rest and Recovery:
While pushing your limits is essential for progress, so is allowing your body adequate rest and recovery. Muscles grow and adapt during the recovery phase, so it is crucial to schedule rest days between intense training sessions. Additionally, getting sufficient sleep and following a balanced diet rich in nutrients support optimal muscle recovery and growth.
Consider the following tips for rest and recovery:
Schedule regular rest days: Plan at least one or two days of complete rest each week to allow your muscles to recover.
Listen to your body: Pay attention to any signs of overtraining, such as persistent fatigue or decreased performance, and adjust your training accordingly.
Get quality sleep: Aim for 7-9 hours of sleep each night to support proper muscle repair and overall recovery.
Fuel your body with nutritious food: Consume a balanced diet that includes an adequate amount of protein, carbohydrates, and healthy fats to support muscle recovery.
Designing an Effective Powerful Lifting Workout
Now that we have covered the fundamentals, let's discuss how to design an effective powerful lifting workout. Remember, it is always beneficial to seek guidance from a certified fitness professional before starting any new training program. Here are some key factors to consider:
1. Set Clear Goals:
Identify your specific goals to tailor your workout routine accordingly. Whether you aim to build muscle mass, increase overall strength, or improve athletic performance, setting clear objectives will help you structure your training program effectively.
Write down your goals: Clearly define what you want to achieve, such as lifting a certain weight or improving performance in a particular sport.
Break down your goals: Divide your long-term goals into smaller, achievable milestones to track your progress and stay motivated.
Consider timeframes: Set realistic timelines for reaching each milestone, understanding that progress takes time and dedication.
2. Compound Exercises:
Incorporate compound exercises into your routine as they engage multiple muscle groups simultaneously, resulting in more efficient and effective workouts. Exercises like squats, deadlifts, bench presses, and overhead presses are excellent examples of compound movements that promote overall strength development.
Benefits of compound exercises include:
Efficient use of time: Due to their multi-joint nature, compound exercises allow you to work several muscle groups at once, maximizing your training efficiency.
Functional strength development: Compound exercises mimic real-life movements, improving your ability to perform daily activities or sports-specific actions.
Increased calorie burn: Engaging multiple muscle groups simultaneously leads to a higher calorie expenditure, supporting fat loss and weight management.
3. Targeted Isolation Exercises:
In addition to compound exercises, include targeted isolation exercises to focus on specific muscle groups. This allows you to address any muscular imbalances and achieve a well-rounded physique. For example, bicep curls, tricep extensions, and calf raises target specific muscle groups and help enhance their strength and definition.
Benefits of targeted isolation exercises include:
Muscle symmetry and balance: Isolation exercises help to correct any muscle imbalances, ensuring that both sides of your body are equally developed.
Enhanced muscle definition: By targeting specific muscles, isolation exercises can help you achieve a more sculpted and defined appearance.
Rehabilitation and injury prevention: Isolation exercises can be used as a part of rehabilitation programs to isolate and strengthen specific muscles affected by injury.
4. Optimal Repetition Range:
To maximize strength gains, select an appropriate repetition range for each exercise. Lower repetitions (around 4-6) with heavier weights primarily promote strength and power, while higher repetitions (around 8-12) with lighter weights emphasize muscle endurance and hypertrophy. Incorporating both ranges into your routine can yield comprehensive results.
Consider the following repetition range guidelines:
Strength and power focus: Perform exercises using heavier weights with lower repetitions (4-6 reps) to challenge your muscles and stimulate strength gains.
Muscle endurance and hypertrophy focus: Use lighter weights and perform more repetitions (8-12 reps) to target muscle endurance and promote muscle growth.
5. Periodization:
Implementing a periodization plan helps prevent training plateaus and ensures continual progress. Periodization involves dividing your training program into specific phases, each focusing on different aspects of strength development. This strategic approach optimizes performance and minimizes the risk of overtraining.
Key components of a periodized training program include:
Different training phases: Divide your training program into phases, such as a strength-building phase, a muscle hypertrophy phase, and a conditioning phase.
Varied intensity and volume: Adjust the intensity (weight lifted) and volume (number of sets and repetitions) throughout each phase to provide a stimulus for adaptation.
Planned recovery periods: Incorporate scheduled recovery weeks or deload weeks to allow your body to recover and supercompensate, leading to improved performance.
Conclusion
Powerful lifting through weights is an effective method to enhance strength and achieve overall fitness. By incorporating proper technique, progressive overload, variety, and adequate rest into your training program, you can maximize your strength gains and enjoy the numerous benefits of strength training. Remember to design a workout routine that aligns with your goals, includes compound and isolation exercises, and utilizes an optimal repetition range. Embrace the power of lifting weights and unlock your full potential for strength and vitality.
This article has been edited and expanded to provide a more comprehensive understanding of powerful lifting and its benefits.
Q1: What are the benefits of strength training?
A1: Strength training has numerous benefits, including increased muscle strength, improved bone density, joint health, and overall body composition. It also enhances metabolism, promotes fat loss, increases lean muscle mass, improves posture and balance, reduces the risk of injuries, and positively impacts mental health.
Q2: What are the fundamentals of powerful lifting?
A2: The fundamentals of powerful lifting include mastering proper technique, applying progressive overload, introducing variety into your training program, and allowing for adequate rest and recovery.
Q3: How can I apply progressive overload in my weightlifting routine?
A3: Progressive overload can be achieved by gradually increasing the weight lifted, the number of repetitions, or the intensity of the exercise. This ensures that your muscles continually adapt, grow stronger, and progress.
Q4: How can I design an effective powerful lifting workout?
A4: To design an effective powerful lifting workout, you should set clear goals, incorporate compound exercises and targeted isolation exercises, select an optimal repetition range, and implement a periodization plan to prevent training plateaus and ensure continual progress.