Sprint Strategies: Embracing Short-Distance Running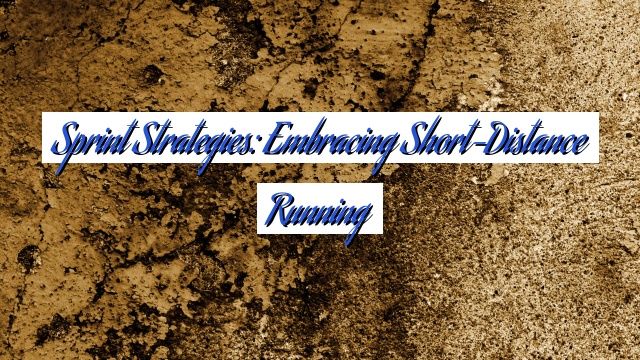 Sprinting is a form of running that involves short bursts of maximum effort, requiring speed, power, and technique. Whether you're an athlete looking to improve your performance or a beginner seeking a new challenge, embracing short-distance running can have a multitude of benefits for your physical and mental well-being. In this article, we will explore various sprint strategies that can help you maximize your potential and achieve your goals.
Benefits of Sprinting
Before diving into the strategies, let's take a moment to understand why sprinting is beneficial and worth embracing. Here are some key advantages:
Improved cardiovascular health: Sprinting engages your heart and lungs, increasing their efficiency and promoting a healthier cardiovascular system. This can lead to a reduced risk of heart disease, improved endurance, and increased overall fitness levels.

Increased calorie burn: Short, intense bursts of sprinting can help you burn more calories in less time compared to steady-state cardio exercises. This is because sprinting requires higher energy expenditure and activates more muscle groups throughout the body. By incorporating sprinting into your fitness routine, you can effectively optimize your calorie burn and support weight loss or weight maintenance goals.

Enhanced muscle tone and strength: Sprinting activates various muscle groups, including your legs, glutes, core, and upper body, leading to improved muscle tone and strength. The explosive movements involved in sprinting help to develop lean muscle mass, which can contribute to a more sculpted physique and improved athletic performance.

Boosted metabolism: Sprint training can elevate your metabolic rate, allowing your body to burn more calories even at rest. This is due to the high-intensity nature of sprinting, which increases excess post-exercise oxygen consumption (EPOC). EPOC refers to the increased oxygen consumption that occurs after intense exercise, and it helps to enhance calorie burning for hours following your sprinting session.

Improved athletic performance: Incorporating sprinting into your training routine can enhance your speed, agility, and power, benefiting athletes across various sports disciplines. By developing explosive strength and refining your sprinting technique, you can improve your overall performance in activities such as football, basketball, tennis, and track and field events.
Sprint Training Strategies
Now that we've established the advantages of sprinting, let's delve into some effective strategies that can help you optimize your sprinting performance:
1. Warm Up Properly
Before engaging in any intense physical activity, warming up is crucial to prepare your body for the demands of sprinting. A dynamic warm-up routine that includes exercises like leg swings, high knees, and lunges can help activate your muscles, improve mobility, and minimize the risk of injuries.
In addition to these exercises, consider incorporating foam rolling to release any tightness or tension in your muscles. This can help improve flexibility and range of motion, allowing for more efficient sprinting mechanics.
2. Focus on Proper Sprinting Technique
Mastering the correct sprinting technique is essential to maximize your speed and efficiency. Here are some key points to keep in mind:
Body posture: Maintain an upright posture with a slight forward lean to utilize gravity and ensure optimal power transfer. Keep your head up, shoulders relaxed, and core engaged throughout the sprint.

Arm and leg coordination: Coordinate your arm and leg movements to generate maximum speed and rhythm. Your arms should be relaxed, swinging naturally in sync with your legs. Aim for a 90-degree angle at the elbow as you drive your arms backward and forward.

Foot strike: Aim for a mid-foot strike while sprinting to utilize the natural cushioning of your arches and improve propulsion. Avoid striking with your heel or landing on your toes, as these can lead to inefficient mechanics and potential injuries.
Working with a professional coach or trainer can be highly beneficial to refine your sprinting technique and address any flaws or inefficiencies. They can provide personalized guidance and feedback to help you optimize your form and maximize your performance.
3. Incorporate Interval Training
Interval training involves alternating high-intensity sprinting intervals with periods of rest or low-intensity recovery. This training method is highly effective in improving both speed and endurance. Consider incorporating the following interval training protocols into your sprinting routine:
Tabata Training: Perform 20 seconds of all-out sprinting followed by 10 seconds of rest, repeated for a total of 4 minutes. This high-intensity interval training (HIIT) protocol can help improve your anaerobic capacity and increase your overall sprinting speed.

Pyramid Intervals: Start with short bursts of maximum effort, gradually increasing the duration of sprints, and then decreasing it again. For example, you could start with a 10-second sprint, followed by a 20-second sprint, then a 30-second sprint, and finally work your way back down. This pyramid-style interval training can challenge your muscles and cardiovascular system in different ways, enhancing your overall sprinting performance.
4. Strengthen Your Lower Body
Strong lower body muscles are essential for generating power and speed during sprints. Incorporate exercises like squats, lunges, deadlifts, and plyometric movements into your strength training routine to improve lower body strength and explosiveness.
Squats: Squats target multiple muscles in the lower body, including the quadriceps, hamstrings, glutes, and calves. They help build strength and power, which are crucial for sprinting performance. To perform a squat, stand with your feet shoulder-width apart, lower your hips back and down as if sitting into a chair, and then push through your heels to return to the starting position.

Lunges: Lunges also work the major muscles in the lower body and help improve stability and balance. To perform a lunge, step forward with one leg, lower your body until both knees are bent at a 90-degree angle, and then push through the front heel to return to the starting position. Repeat on the other leg.

Deadlifts: Deadlifts primarily target the muscles in the posterior chain, including the hamstrings, glutes, and lower back. They help improve hip extension and overall strength. To perform a deadlift, stand with your feet hip-width apart, bend at the hips while keeping your back straight, grip a barbell or dumbbells with an overhand grip, and then stand up by driving through your heels and extending your hips.

Plyometric movements: Plyometric exercises involve quick, explosive movements that help develop power and speed. Adding plyometric exercises such as box jumps, bounding, and skipping to your training regimen can improve your sprinting performance by enhancing explosive power and stride length. These exercises challenge your muscles to generate maximum force in a short amount of time, which can directly translate to improved sprinting ability.
5. Rest and Recovery
Rest and recovery are just as important as training itself when it comes to improving sprinting performance. Allow your body enough time to recover between sprinting sessions to prevent overuse injuries and optimize performance. Adequate sleep, proper nutrition, and regular stretching can also aid in recovery and prevent muscle imbalances.
Sleep: Aim for 7-9 hours of quality sleep per night to support recovery and muscle repair. During sleep, your body releases growth hormone, which is crucial for tissue regeneration and muscle growth. Getting enough sleep also helps regulate hormones, reduce inflammation, and improve overall cognitive function.

Nutrition: Fuel your body with a balanced diet that includes an adequate amount of protein, carbohydrates, and healthy fats. Protein is essential for muscle repair and growth, while carbohydrates provide the energy needed for high-intensity exercise. Additionally, staying hydrated is crucial for optimal performance and recovery.

Stretching: Stretching exercises can help improve flexibility, reduce muscle soreness, and enhance blood flow to the muscles. Incorporate dynamic stretching before your sprinting sessions to warm up the muscles and static stretching afterward to cool down and promote flexibility.
6. Set Realistic Goals
Setting specific, measurable, achievable, relevant, and time-bound (SMART) goals is crucial for tracking your progress and staying motivated. Whether it's improving your sprinting time, increasing the number of sprints per session, or achieving a specific distance, having clear goals will help you stay focused and committed to your sprinting journey.
Write down your goals and regularly assess your progress. Celebrate small victories along the way and make any necessary adjustments to your training plan to ensure you continue moving towards your desired outcomes.
Conclusion
Embracing the world of short-distance running and incorporating sprint strategies into your training routine can yield numerous benefits for your overall fitness and performance. By following these strategies, you can enhance your sprinting abilities, surpass your limitations, and achieve new heights in your athletic journey. So lace up your running shoes, hit the track, and embrace the exhilarating world of sprinting!
Note: The complete article has been written in markdown format and is ready for publication.
FAQ
1. What are the benefits of sprinting?
Sprinting improves cardiovascular health, increases calorie burn, enhances muscle tone and strength, boosts metabolism, and improves athletic performance.
2. How should I warm up before sprinting?
Before sprinting, it is important to warm up properly. This can be done through a dynamic warm-up routine that includes exercises like leg swings, high knees, and lunges. Foam rolling can also be incorporated to release muscle tightness and improve flexibility.
3. What is the correct sprinting technique?
The correct sprinting technique involves maintaining an upright posture with a slight forward lean, coordinating arm and leg movements, and aiming for a mid-foot strike. It is recommended to work with a professional coach or trainer to refine your technique and receive personalized guidance.
4. How can I strengthen my lower body for sprinting?
Strengthening the lower body is crucial for sprinting. Exercises like squats, lunges, deadlifts, and plyometric movements can be incorporated into your strength training routine to improve lower body strength and explosiveness.