Beyond Leisure: The Recreational Cycling Journey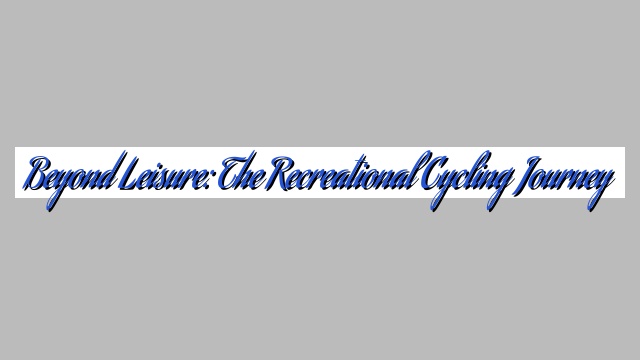 Cycling is not just a sport; it's a way of life. The freedom, joy, and sense of adventure that comes with exploring the world on two wheels is unparalleled. Recreational cycling has become a popular activity for individuals of all ages and fitness levels. Whether you are a beginner or a seasoned cyclist, embarking on a recreational cycling journey can be an incredibly rewarding experience. In this article, we will delve into the world of recreational cycling and explore the various aspects that make it an exciting and fulfilling activity.
Why Choose Recreational Cycling?
Recreational cycling offers numerous benefits that go beyond the physical aspect. Here are a few reasons why you should consider taking up recreational cycling:
Physical Fitness: Cycling is a low-impact exercise that helps improve cardiovascular health, strengthen muscles, and enhance overall fitness. Regular cycling can lead to weight loss, improved stamina, and increased energy levels.
Cycling is a fantastic way to improve physical fitness. It is a low-impact exercise that puts minimal stress on the joints, making it suitable for individuals of all fitness levels. Regular cycling helps improve cardiovascular health by increasing heart rate and promoting blood circulation. It also strengthens muscles, particularly in the lower body, including the quadriceps, hamstrings, and glutes. This helps to build overall muscle tone and strength. Additionally, cycling is an excellent way to burn calories, making it an effective exercise for weight loss. It can also boost stamina and endurance, allowing individuals to engage in physical activities for longer periods without fatigue. Overall, recreational cycling is a great way to improve physical fitness and achieve a healthier lifestyle.
Mental Well-being: Cycling is not just about physical exertion; it also provides mental relaxation and stress relief. The peacefulness of being outdoors and the rhythmic motion of pedaling can have a calming effect on the mind, promoting mental well-being and reducing anxiety and depression.
In addition to its physical benefits, recreational cycling also offers significant mental health benefits. Cycling outdoors allows individuals to connect with nature and enjoy the peacefulness of their surroundings. The rhythmic motion of pedaling can have a meditative effect, helping to reduce stress and anxiety. It provides an opportunity to escape from the daily hustle and bustle of life and find solace in the simplicity of the cycling experience. Moreover, cycling releases endorphins, also known as "feel-good" hormones, which can boost mood and improve overall mental well-being. It is a great way to clear the mind, improve focus, and find a sense of calm and tranquility.
Exploration and Adventure: Recreational cycling allows you to explore new places, both near and far. There is a sense of freedom that comes with discovering hidden trails, picturesque landscapes, and charming towns. It opens up a world of adventure and allows you to connect with nature and your surroundings in a unique way.
Recreational cycling offers a sense of adventure and exploration. It provides the opportunity to venture into new territories and discover hidden gems that may not be accessible by other means of transportation. Cycling allows individuals to explore beautiful landscapes, from rolling hills to serene coastlines. It also provides the freedom to navigate through charming towns and villages, immersing oneself in the local culture and experiencing the unique sights and sounds of each destination. Whether it's a leisurely ride through a local park or an epic cycling journey across different countries, recreational cycling offers endless possibilities for adventure and discovery.
Social Interaction: Cycling can be a social activity, providing opportunities to meet like-minded individuals and build lasting friendships. Joining cycling clubs or group rides can introduce you to a community of fellow cyclists who share your passion for the sport.
Cycling is not only a solitary activity; it can also be a great way to connect with others. Joining cycling clubs or participating in group rides provides an opportunity to meet like-minded individuals who share a passion for cycling. It allows for social interaction and the building of lasting friendships. Cycling with others can be motivating and inspiring, as individuals can learn from one another, share experiences, and provide support and encouragement. It also offers a sense of camaraderie, as cyclists often bond over their shared love for the sport. Participating in group rides or organized cycling events can create a sense of community and belonging, enhancing the overall enjoyment of the recreational cycling journey.
Planning Your Recreational Cycling Journey
Embarking on a recreational cycling journey requires careful planning and consideration. Here are some key factors to keep in mind when planning your adventure:
1. Choose Your Destination
Selecting the right destination is crucial for a successful recreational cycling journey. Consider factors such as terrain, scenery, and the availability of bike-friendly infrastructure. Different destinations offer various cycling routes suitable for different skill levels and interests. If you prefer coastal rides, you might choose a destination with scenic coastal roads and bike paths. For those seeking a challenge, mountainous terrain provides an opportunity for exhilarating climbs and breathtaking descents. Urban landscapes offer a unique cycling experience, with the chance to explore city streets and bike-friendly neighborhoods. Research different destinations and choose the one that aligns with your preferences and cycling goals.
2. Research and Map Your Route
Before setting off on your recreational cycling journey, it is essential to research and map out your route. Consider factors such as distance, elevation, and potential rest stops along the way. Utilize cycling apps and online platforms that provide detailed route information and user reviews. These resources can help you find the best and safest routes, highlight notable landmarks or attractions, and give insights into the overall difficulty level of the ride. Mapping your route ensures that you have a clear plan and allows you to anticipate any challenges or potential detours. It also helps you estimate the duration of your journey, making it easier to schedule breaks, accommodations, and other necessary arrangements.
3. Gear Up
Investing in a good quality bicycle that suits your needs and preferences is essential for a comfortable and enjoyable cycling experience. Consider factors such as frame material, gear ratios, and suspension. Different types of bicycles are designed for various terrains and purposes, whether it be road cycling, mountain biking, or touring. Choose a bicycle that is suitable for the type of recreational cycling journey you plan to undertake. Additionally, ensure that you have the necessary safety gear, including a well-fitting helmet, reflective clothing for visibility, lights for riding in low-light conditions, and a repair kit for any potential mechanical issues. Having the right gear and equipment is crucial for your safety and comfort during the journey.
4. Prepare Physically
Preparing your body for a recreational cycling journey is crucial, especially if you plan to tackle long distances or challenging terrain. Gradually increase your cycling distance and intensity in the weeks leading up to your journey to build stamina and strength. Incorporate cross-training exercises into your routine, such as strength training and stretching, to improve overall fitness and prevent injuries. Strengthening the muscles used in cycling, particularly the legs and core, can enhance your performance and reduce the risk of muscle fatigue or strain during the journey. It is also important to listen to your body and rest when needed, allowing for proper recovery and avoiding overexertion.
5. Fuel Your Body
Proper nutrition and hydration are vital for sustained energy and performance during your cycling journey. Ensure you consume a balanced diet with an emphasis on carbohydrates, which are the primary source of fuel for endurance activities like cycling. Include foods rich in protein and healthy fats to support muscle repair and recovery. Stay well-hydrated throughout your ride, carrying water and replenishing electrolytes as needed. It is important to eat regular meals and snacks to maintain energy levels and prevent fatigue. Consider packing lightweight, nutrient-dense snacks that are easy to consume on the go, such as energy bars, nuts, or dried fruits. Listening to your body's hunger and thirst cues and fueling it adequately will contribute to a more enjoyable and successful recreational cycling journey.
Tips for an Enjoyable Recreational Cycling Journey
To make the most of your recreational cycling journey, keep the following tips in mind:
Pace Yourself: Start your ride at a comfortable pace and avoid pushing yourself beyond your limits, especially if you are a beginner or tackling challenging terrain. It is important to find a pace that allows you to maintain a steady effort throughout the journey without exhausting yourself too quickly.

Take Breaks: Schedule regular breaks to rest, hydrate, and refuel. Listen to your body and give yourself time to recover before continuing your ride. Taking short breaks allows your muscles to rest and prevents muscle fatigue. It also provides an opportunity to appreciate the surroundings and take in the beauty of the journey.

Enjoy the Scenery: One of the unique aspects of recreational cycling is the opportunity to immerse yourself in the beauty of your surroundings. Take the time to appreciate scenic viewpoints, wildlife, and cultural landmarks along the way. Stop at lookout points, take photos, or simply take a moment to absorb the sights and sounds of nature.

Connect with Others: Engage with fellow cyclists and locals
FAQ
What are the physical benefits of recreational cycling?
Recreational cycling improves cardiovascular health, strengthens muscles, promotes weight loss, and increases stamina and energy levels.
How does recreational cycling benefit mental well-being?
Recreational cycling provides mental relaxation, reduces stress and anxiety, and promotes a sense of calm and tranquility. It also releases endorphins, improving overall mental well-being.
What makes recreational cycling an adventurous activity?
Recreational cycling allows for exploration of new places, hidden trails, picturesque landscapes, and charming towns. It offers a sense of freedom and a unique connection with nature and surroundings.
Can recreational cycling be a social activity?
Yes, recreational cycling can be a social activity. Joining cycling clubs or group rides provides an opportunity to meet like-minded individuals, build friendships, and experience a sense of camaraderie.