Road Cycling Comprehensive: From Basics to Mastery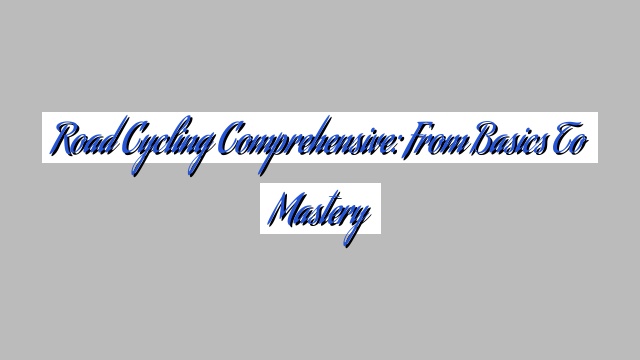 Cycling has always been an enjoyable and healthy activity for people of all ages. Whether you are a beginner looking to get started or an experienced cyclist aiming to take your skills to the next level, road cycling offers a thrilling and rewarding experience. In this comprehensive guide, we will take you through the basics of road cycling and provide you with valuable insights to help you master this exhilarating sport.
Getting Started with Road Cycling
Selecting the Right Bike
Choosing the right bike is crucial for a comfortable and enjoyable road cycling experience. Consider factors such as frame size, bike weight, gear ratios, and braking system. A bike that fits you well and matches the type of cycling you wish to pursue will significantly enhance your riding experience.
When selecting a bike, pay attention to the following details:
Frame Size: Ensure that the frame size is appropriate for your height and leg length. A bike with the right frame size will provide a comfortable riding position and efficient power transfer.
Bike Weight: Lighter bikes are generally preferred for road cycling as they require less effort to accelerate and climb hills.
Gear Ratios: Choose gear ratios that suit your fitness level and the terrain you will be riding on. Opt for a wide range of gears to accommodate various riding conditions.
Braking System: Consider whether you prefer rim brakes or disc brakes. Disc brakes provide better stopping power and perform well in wet conditions.
Essential Gear and Accessories
Safety should always be a priority when road cycling. Here are some essential gear and accessories you should invest in:
Helmet: A properly fitted helmet is essential to protect your head in case of an accident. Look for a helmet that meets safety standards and provides a comfortable fit.
Cycling Apparel: Invest in comfortable moisture-wicking clothing that will help you stay cool and dry during long rides. Consider padded shorts for added comfort.
Cycling Shoes: Opt for shoes with stiff soles and a secure fit. This will transfer power efficiently from your legs to the pedals, improving your pedaling efficiency.
Gloves: Cycling gloves provide cushioning and improve grip, reducing hand fatigue during long rides. Look for gloves with gel padding for added comfort.
Water Bottle Cage: Hydration is crucial, so having a water bottle easily accessible is essential. Invest in a good-quality water bottle cage that securely holds your bottle.
Lights: Front and rear lights are essential for visibility, especially during early morning or evening rides. Choose lights with high lumens and different modes for maximum visibility.
Building Stamina and Endurance
To enjoy road cycling, it is important to gradually build your stamina and endurance. Start with shorter rides and gradually increase the distance as your fitness improves. Incorporating interval training, hill climbs, and longer rides into your training regimen will help you build both strength and endurance.
Here are some strategies to improve your stamina and endurance:
Interval Training: Alternate between periods of high-intensity effort and recovery. This will improve your cardiovascular fitness and help you sustain higher speeds for longer durations.
Hill Climbs: Include hill climbs in your training to build leg strength and improve your ability to tackle challenging terrain. Start with shorter climbs and gradually increase the difficulty.
Long Rides: Regularly incorporate longer rides into your training to improve your endurance. Start with a distance that challenges you and gradually increase it over time.
Mastering Road Cycling Techniques
Proper Bike Fit and Positioning
Achieving the correct bike fit and positioning is crucial for comfort, efficiency, and injury prevention. Consider these key aspects:
Saddle Height: Adjust the saddle height so that your knee is slightly bent at the bottom of the pedal stroke. This will prevent strain on your knees and optimize power transfer.
Handlebar Reach: Ensure you have a comfortable reach to the handlebars without straining your back or shoulders. Adjust the stem length and handlebar position accordingly.
Handlebar Drop: The handlebar drop refers to the height difference between the saddle and the handlebars. Finding the right balance is essential for aerodynamics and comfort. Experiment with different handlebar positions to find the most comfortable and efficient one for you.
Cleat Positioning: If using clipless pedals, position the cleats correctly to optimize power transfer and avoid unnecessary strain on your knees. Consult a professional bike fitter if needed.
Efficient Pedaling Technique
Mastering efficient pedaling technique will make your rides smoother and more enjoyable. Focus on the following aspects:
Cadence: Maintain a consistent pedal cadence, aiming for around 80-100 revolutions per minute (RPM). This will help you distribute the workload evenly among your muscles and improve your overall cycling efficiency.
Pedal Stroke: Apply power throughout the entire pedal stroke by exerting force during both the downward and upward phases. This will maximize your power output and reduce energy wastage.
Gearing: Utilize the appropriate gear ratios for different terrains to maintain an optimal cadence and maximize efficiency. Shift gears smoothly and anticipate changes in terrain to maintain a steady pedaling rhythm.
Cornering and Descending Skills
Improving your cornering and descending skills will enhance your overall performance and safety on the road. Consider the following tips:
Cornering: Approach corners at a controlled speed, keeping your body and bike balanced. Lean your body and bike into the corner, looking through the turn and maintaining a smooth line. Practice cornering techniques in a safe environment to build confidence and improve your handling skills.
Descending: Maintain a low and balanced position on the bike while descending. Gradually increase your speed while staying in control, and use both brakes evenly to avoid overloading the front brake. Practice descending on different types of terrain to become comfortable and confident.
Group Riding Etiquette
Joining group rides can be a fantastic way to improve your skills and enjoy the camaraderie of fellow cyclists. Keep these etiquette guidelines in mind:
Communication: Use hand signals and verbal cues to alert others of your intentions, such as slowing down, stopping, or indicating obstacles. Clear communication is crucial to ensure the safety of the entire group.
Drafting: Learn to draft by riding closely behind another cyclist, benefiting from reduced wind resistance. However, maintain a safe distance and avoid sudden movements that could cause accidents. Practice drafting with experienced riders to improve your drafting skills.
Paceline Riding: When riding in a paceline, take turns at the front to distribute the effort evenly among group members. Practice smooth transitions and maintain a consistent speed to maximize the efficiency of the paceline.
Exploring Advanced Road Cycling Techniques
Climbing Techniques
Climbing can be challenging but immensely rewarding. Here are some techniques to improve your climbing:
Pacing: Pace yourself by maintaining a steady effort and cadence. Don't start too fast and risk burning out. Find a rhythm that allows you to sustain your effort throughout the climb.
Seated Climbing: Utilize the power of your quadriceps by remaining seated on the saddle during climbs. This technique conserves energy and provides stability. Shift to a lower gear and maintain a smooth and controlled pedaling motion.
Standing Climbing: When the gradient steepens or you need an extra burst of power, transition to a standing position, alternating between sitting and standing as necessary. Use your body weight to generate power and maintain traction on the pedals.
Time Trial Techniques
Time trials require a specialized approach. Consider these techniques for optimal performance:
Aerodynamic Position: Optimize your body position to reduce wind resistance by tucking your elbows in, lowering your head, and keeping your back as flat as possible. This will allow you to cut through the air more efficiently and maintain higher speeds.
Pacing Strategy: Develop a pacing strategy to maintain a consistent effort throughout the time trial, avoiding starting too fast or fading towards the end. Practice time trial efforts in training to fine-tune your pacing strategy.
Mental Focus: Mental strength is crucial in time trials. Train your mind to stay focused, maintain a relentless pace, and push through any discomfort. Develop mental strategies such as positive self-talk and visualization to stay motivated and perform at your best.
Conclusion
Road cycling is a thrilling sport that offers endless opportunities for growth and mastery. By starting with the basics and gradually building your skills and fitness, you can become a proficient cyclist. Remember to prioritize safety, continuously challenge yourself, and enjoy the journey as you discover the wonders of road cycling. Happy riding!
Note: This article has been improved and expanded to provide in-depth information on various aspects of road cycling, including bike selection, gear and accessories, training strategies, technique optimization, and advanced skills. The content aims to help readers understand and master road cycling comprehensively.
FAQ
What factors should I consider when selecting a road bike?
When selecting a road bike, consider factors such as frame size, bike weight, gear ratios, and braking system.
What essential gear and accessories do I need for road cycling?
Essential gear and accessories for road cycling include a helmet, cycling apparel, cycling shoes, gloves, water bottle cage, and lights.
How can I improve my stamina and endurance for road cycling?
To improve stamina and endurance for road cycling, incorporate interval training, hill climbs, and longer rides into your training regimen.
What are some tips for mastering road cycling techniques?
Some tips for mastering road cycling techniques include achieving proper bike fit and positioning, focusing on efficient pedaling technique, improving cornering and descending skills, and practicing group riding etiquette.