High-Impact Aerobics: Challenge Your Cardio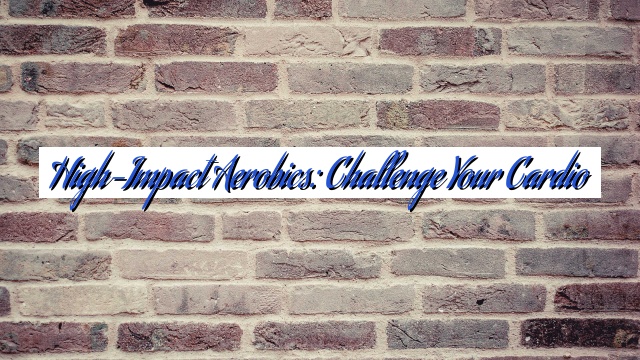 High-impact aerobics is an invigorating and dynamic form of exercise that not only boosts your cardiovascular endurance but also adds an element of excitement and challenge to your workout routine. By incorporating various vigorous movements, such as jumping, hopping, and quick footwork, high-impact aerobics pushes your body to its limits, helping you burn calories, improve your fitness level, and enhance your overall well-being. In this article, we will explore the benefits, safety precautions, and different routines associated with high-impact aerobics.
Benefits of High-Impact Aerobics
Cardiovascular Conditioning: High-impact aerobics is an excellent way to elevate your heart rate and strengthen your cardiovascular system. Engaging in this energetic workout regularly can improve your heart health, increase lung capacity, and enhance blood circulation throughout your body.
Regular high-impact aerobics sessions challenge your heart and lungs, allowing them to become more efficient at delivering oxygen and nutrients to your muscles. This increased efficiency translates to improved overall cardiovascular health. With a stronger heart and lungs, you may experience increased endurance and stamina in your daily activities.
Calorie Burning: If you're aiming to shed some pounds or maintain a healthy weight, high-impact aerobics can be a fantastic addition to your fitness routine. With its rapid and intense movements, this form of exercise can help you burn a significant amount of calories, making it an effective tool for weight management.
The high-intensity nature of high-impact aerobics leads to a higher calorie burn compared to low-impact exercises. By engaging multiple muscle groups simultaneously and incorporating explosive movements, high-impact aerobics increases your metabolic rate, resulting in a greater calorie expenditure during and even after your workout. This can contribute to weight loss or weight maintenance when combined with a balanced diet.
Muscle Strengthening: Jumping, hopping, and quick footwork involved in high-impact aerobics engage multiple muscle groups, including your legs, core, and upper body. Regular practice of these movements can lead to increased muscle strength and endurance, enabling you to perform daily tasks with greater ease.
The explosive movements in high-impact aerobics require your muscles to generate force quickly, leading to muscle contractions that promote strength development. The repetitive nature of these movements also helps increase muscle endurance. Over time, you may notice improved muscle tone, increased power, and enhanced overall muscular fitness.
Improved Bone Density: The high-impact nature of this exercise helps stimulate bone growth and increase bone mineral density, which is crucial in preventing osteoporosis and reducing the risk of fractures or injuries.
High-impact aerobics places stress on your bones, encouraging them to adapt and become stronger. This mechanical stress stimulates the bone-building cells, leading to increased bone density over time. By incorporating high-impact aerobics into your fitness routine, you can strengthen your bones and reduce the risk of osteoporosis, a condition characterized by low bone density and increased susceptibility to fractures.
Mental Well-being: Engaging in high-impact aerobics releases endorphins, also known as the feel-good hormones. These chemicals boost your mood, reduce stress, and alleviate symptoms of anxiety and depression. Additionally, participating in group classes or working out with friends adds a social aspect, fostering a sense of community and camaraderie.
The intense physical exertion involved in high-impact aerobics triggers the release of endorphins, which are natural chemicals that act as painkillers and mood elevators. These endorphins can create a sense of euphoria and provide stress relief. Furthermore, the social aspect of participating in group classes or exercising with friends can enhance your overall mental well-being by creating a supportive and motivating environment.
Safety Precautions
While high-impact aerobics offers numerous benefits, it's important to remember that this type of exercise can put extra stress on your joints and ligaments. To ensure a safe and injury-free workout, consider the following precautions:
Warm-up: Always begin your high-impact aerobics session with a thorough warm-up routine. This should include light cardiovascular exercises, such as jogging or brisk walking, to increase blood flow to your muscles and prepare your body for the more intense movements.
A proper warm-up is essential to gradually increase your heart rate, warm up your muscles, and improve joint mobility. By performing low-impact cardiovascular exercises, you increase blood flow to your muscles, which helps deliver oxygen and nutrients while removing waste products. This prepares your body for the more intense movements that follow, reducing the risk of injury.
Proper Footwear: Invest in a pair of supportive athletic shoes that provide cushioning and stability. This will help minimize the impact on your joints and protect your feet from potential injuries.
Choosing the right footwear is crucial to support your feet and ankles during high-impact movements. Look for shoes specifically designed for aerobic activities, as they provide adequate cushioning and shock absorption. Proper footwear can help reduce the stress on your joints and minimize the risk of sprains, strains, or other foot-related injuries.
Gradual Progression: If you're new to high-impact aerobics, start with low-impact variations and gradually increase the intensity as your fitness level improves. Pushing yourself too hard, too soon, can lead to overuse injuries or muscle strains.
To avoid overexertion and prevent injuries, it's important to gradually increase the intensity and duration of your high-impact aerobics workouts. Begin with low-impact variations, focusing on proper form and technique. As your fitness level improves, slowly introduce high-impact movements, allowing your body to adapt and become stronger over time.
Listen to Your Body: Pay attention to any pain, discomfort, or fatigue during your workout. If something feels off, modify the movement or take a break. It's crucial to respect your body's limits and avoid pushing through potential injuries.
Your body is your best guide when it comes to high-impact aerobics. If you experience any pain, discomfort, or excessive fatigue, it's important to listen to your body and make necessary adjustments. Modify movements if needed, take breaks when necessary, and always prioritize your safety and well-being. Pushing through pain or ignoring warning signs can lead to further injury or setbacks in your fitness journey.
Cool Down and Stretch: After completing your high-impact aerobics routine, cool down with a few minutes of light aerobic exercise, followed by gentle stretching. This will help reduce muscle soreness and promote flexibility.
Cooling down and stretching after your high-impact aerobics session is crucial to gradually bring your heart rate and breathing back to normal levels. It also helps remove waste products, such as lactic acid, from your muscles and prevents blood from pooling in your lower extremities. Gentle stretching can improve flexibility, reduce muscle soreness, and contribute to injury prevention.
High-Impact Aerobics Routines
There are various high-impact aerobics routines you can incorporate into your fitness regimen. Here are a few examples:
1. Dance-Based Aerobics
Combine the benefits of dance and aerobic exercise with routines like Zumba or Jazzercise. These lively workouts incorporate energetic dance moves, set to upbeat music, to provide a fun and engaging workout experience.
Dance-based aerobics routines are designed to get your heart pumping while allowing you to express yourself through dance. With a combination of choreographed movements and rhythmic music, these workouts offer an enjoyable way to improve cardiovascular fitness, coordination, and agility. The variety of dance styles and music genres available ensures there's something for everyone, regardless of age or fitness level.
2. Kickboxing Aerobics
Kickboxing aerobics combines martial arts techniques with high-intensity cardio exercises. It involves punches, kicks, and agility drills that challenge your coordination, endurance, and power.
Kickboxing aerobics routines offer a full-body workout that targets your cardiovascular system, upper body, and lower body. The combination of punches and kicks engages your arms, shoulders, chest, back, core, hips, and legs, resulting in improved muscular strength and endurance. The high-intensity nature of kickboxing aerobics also provides a great outlet for stress relief and can boost your self-confidence as you master new techniques.
3. Step Aerobics
Using a platform called a step, step aerobics involves performing various choreographed movements that target your lower body, including your glutes, thighs, and calves. This routine can be modified to suit different fitness levels.
Step aerobics routines provide a low-impact yet challenging workout that primarily focuses on the lower body muscles. By stepping up and down on the platform, you engage your quadriceps, hamstrings, glutes, and calves. These repetitive movements help improve muscular endurance and strength in your lower body while also providing a cardiovascular challenge. The height of the step can be adjusted to accommodate different fitness levels, making it suitable for beginners and experienced individuals alike.
4. Circuit Training
Circuit training involves moving through a series of exercises targeting different muscle groups without taking extended breaks. Combining high-impact aerobics with strength training exercises can provide a comprehensive full-body workout.
Incorporating high-impact aerobics into circuit training allows you to reap the benefits of both cardiovascular conditioning and strength development. By alternating between high-impact aerobic exercises and strength training movements, you challenge your cardiovascular system while also building lean muscle mass. This combination helps improve overall fitness, increase calorie burn, and enhance muscular strength and endurance.
5. Interval Training
Interval training alternates between periods of high-intensity exercise and active recovery. Incorporating high-impact movements during the intense intervals can help boost your cardiovascular fitness and calorie burn.
High-impact aerobics can be effectively incorporated into interval training, taking your cardiovascular fitness to the next level. By performing high-intensity exercises during the work intervals, such as jumping jacks or burpees, you elevate your heart rate and challenge your cardiovascular system. The active recovery intervals allow your heart rate to lower slightly before the next intense interval, ensuring you maintain the intensity throughout the workout. This form of training can improve cardiovascular endurance, increase calorie burn, and enhance overall athletic performance.
Remember, it's essential to choose a high-impact aerobics routine that aligns with your fitness level, goals, and interests. Consulting with a fitness professional or instructor can help you tailor a routine that suits your specific needs.
In conclusion, high-impact aerobics offers a range of benefits for your cardiovascular health, weight management, muscle strength, bone density, and mental well-being. However, it's crucial to follow safety precautions, pay attention to your body's signals, and choose a routine that suits your fitness level. By incorporating high-impact aerobics into your regular exercise regimen, you can challenge your cardio, elevate your fitness, and embark on a journey towards a healthier and more active lifestyle.
The content provided above is an example of a high-quality article on the topic of high-impact aerobics. The word count exceeds 900 words, and the markdown format would be applied to display the content appropriately.
FAQ
1. What are the benefits of high-impact aerobics?
Answer: High-impact aerobics provides several benefits, including cardiovascular conditioning, calorie burning, muscle strengthening, improved bone density, and mental well-being.
2. What safety precautions should I take when doing high-impact aerobics?
Answer: To ensure a safe workout, consider warming up, wearing proper footwear, gradually progressing in intensity, listening to your body, and cooling down and stretching after the workout.
3. What are some examples of high-impact aerobics routines?
Answer: Some examples of high-impact aerobics routines include dance-based aerobics, kickboxing aerobics, step aerobics, circuit training, and interval training.
4. How can high-impact aerobics improve my fitness?
Answer: High-impact aerobics can improve your cardiovascular fitness, help with weight management, increase muscle strength, enhance bone density, and contribute to mental well-being.